By Kevin Siembieda
One game system – every genre – countless worlds – endless adventure
Every week the writing and art for the Rifts® Bestiary Volume One gets closer to completion. I have really been enjoying updating the existing monsters and creatures for the Rifts® Bestiary, adding details and clarifications. And having a blast creating new creatures with Chuck and others. I think the Bestiaries will be a lot of fun and super-useful references.
The Rifter® #82 is also well underway. The new PDF release on DriveThruRPG this week is Land of the Damned™ One: Chaos Lands™, last week was The Northern Hinterlands™ for the Palladium Fantasy RPG® series. Soon the entire Palladium Fantasy RPG® series will be available as PDFs. Wayne is also going back and replacing the fast, not-so-great early scans of books DriveThru did for us, with clean, sharp PDFs. Don't miss the DriveThruRPG sale on ALL Heroes Unlimited™, After the Bomb® and Ninjas & Superspies™ PDF titles.
On our own website, this is the last weekend for the current sale offering Rifts® Ultimate Edition, select books and art prints at a steep discount. Get 'em while you can. Original art, negatives and other collectibles are also available on my Ebay store: http://stores.ebay.com/kevinstoys-artandcollectibles.
I met with writer Matthew Clements this week to discuss several new books he is working on right now and future books for Palladium. In addition to new projects, Matthew will be helping Palladium to release some long awaited titles. The meeting was very productive and left us both anxious to write. Read on for details.
Last Weekend for Gaming Artistry Sale – RUE, select Rifts® books, all prints, greeting cards, bookmarks, and select mouse pads are on sale – Offer ends September 23, 2018
ALL Prints – half price.
Rifts® Ultimate Edition RPG (book) at a 40% discount.
Rifts® Adventure Guide (sourcebook) – half price.
Rifts® Path of the Storm™ – art by Charles Walton (book) – half price.
Rifts® Machinations of Doom™ – Graphic Novel and sourcebook by Ramon K. Perez – half price.
Rifts® and the Megaverse® – The Art of John Zeleznik (book) – half price.
Future Visions – The Art of Charles Walton (book) – half price.
Rifts® Coloring Book – art by John Zeleznik – half price.
Rifts® Greeting Cards – half price – fun and cool.
Rifts® Bookmarks, Set One – half price.
Rifts® Bookmarks, Set Two – half price.
Old Ones Mouse Pad – half price.
Dead Reign®, Zombies Rising Mouse Pad – half price.
Sunday, September 23, 2018, is your last day to order.
End of Summer DriveThruRPG Super-Sale – All Heroes Unlimited™, Ninjas & Superspies™ and After the Bomb® (mutant animals) PDF titles on sale ENDS September 25, 2018
After the Bomb® Role-Playing Game – Create any type of intelligent, mutant animal. Make an entire new breed of crime-fighting, intelligent, humanoid mutant animal heroes in the tradition of the Ninja Turtles, Rocket Raccoon, or any comic book-style superheroes. Or add humanoid mutant animals to your Heroes Unlimited™ or Ninjas & Superspies™ games, or use them in any game setting from Nightbane® to Rifts®/Phase World® where such mutants fit right in.
Playing anthropomorphic animal characters is a blast. And the After the Bomb® RPG gives you everything you need: creation rules, stats for 100+ mutant animals, animal psionics, animal powers, and a post-apocalyptic Earth setting that makes Planet of the Apes seem tame.
Create intelligent, humanoid, mutant animal heroes of every variety, from pigeons and turtles to tigers and elephants!
100+ mutant animal stats included.
Mutant animal creation rules to mutate ANY animal.
52 Mutant Animal Powers.
33 Mutant Animal Psionic Powers.
New Animal Chimeras.
New back story to the After the Bomb® world of mutants.
The post-apocalyptic Earth setting of "After the Bomb" is just one use for your mutant animal heroes.
Create mutant animals as heroes, villains, aliens, and monsters.
A complete role-playing game with skills, weapons and more. Compatible with Heroes Unlimited™, Aliens Unlimited™, Nightbane®, Rifts® and any game setting where mutants or aliens are appropriate.
Written by Erick Wujcik.
Also on sale: AtB sourcebooks. DriveThru Sale ends September 25, 2018.
The Heroes Unlimited™ RPG has been a hit RPG for 30+ years because it enables you to create any type of comic book hero you can imagine. Make characters pulled right from any comic book you like or design your own league of extraordinary heroes.
Some heroes may be superhumans gifted with incredible super abilities, or immortal or practically living gods. Others may rely upon their mastery of the martial arts or weapons training and intelligence. Some may be alien super beings from another world, or mutant humans, or mutant animals, or a living plant creature. Still others may rely upon their wits and their super-vehicle, power armor, bionics or robot body! Others are gadgeteers or tricksters, while some wield psychic mind powers or command the forces of magic. It's called Heroes Unlimited™ for a reason. If you seek comic book heroic adventure, Heroes Unlimited™ does the job on an epic scale. Plus a dozen sourcebooks provide you with more super abilities, hero categories, bad guys and adventures.
Create any type of hero you can imagine.
101 super abilities plus a multitude of sub-powers within them, bonuses and special combat capabilities.
100+ magic spells plus enchanted weapons and objects.
72 psychic powers.
Enchanted weapons that instill super abilities.
Mega-Heroes and immortals.
Alien super beings.
Bionics and cyborgs.
Robots and power armor.
Masters of magic, wizards and spell casters.
Mutants and Super Soldiers possessing super abilities.
Psionics and Psychics.
Inventors, super-geniuses and super-vehicles.
Special Training: Martial arts, weapons, more.
Cover by comic book legend, Jim Steranko.
Art by Ramon K. Perez, Paulo Parente, Mike Gustovich, and others.
Written by Kevin Siembieda.
352 pages for a complete RPG.
Also on sale: Heroes Unlimited™ sourcebooks plus Ninjas and Superspies™ and Mystic China™. DriveThru Sale ends September 25, 2018.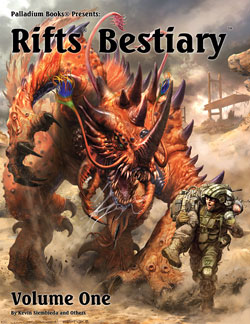 UPDATE: Rifts® Bestiary, Volume One – Ships October
All the pieces are coming together and should go to the printer in a couple weeks. The writing and artwork are clicking (there will be previously published and new art) and Volume One and Two are going to rock. All creatures are updated and new monsters add plenty of spice. The Rifts® Bestiary Volume One will be an October release. Volume Two end of November.
Monsters and animals of Rifts North America organized in two big, easy to use sourcebooks.
Updated descriptions and information to existing monsters.
Updated and uniform stat blocks.
New predators, exotic riding animals, beasts of burden, alien horrors, giant insects and more.
A map for every creature showing where it is found.
Fully illustrated, much of the art by Charles Walton II, along with Siembieda and many others.
192-224 pages each volume – $26.99 retail – Cat. No. 896 (Volume One) and Cat. No. 897 (Volume Two). In production. Release Date: Soon – i.e., as fast as we can kick these bad boys out!
UPDATE: The Rifter®
People are loving The Rifter® #80 and #81. Coming in October, The Rifter® #82, with source material for Rifts®, Chaos Earth®, Nightbane® and more, plus a tribute to Erick Wujcik 10 years after his death.
UPDATE: Garden of the Gods™, a Palladium Fantasy® Sourcebook
Matthew Clements has been hot writing his contributions to Garden of the Gods. He is living in California these days, but he was in town this week and we got together for a day to brainstorm on this book and several other projects. Good stuff is coming your way.
UPDATE: Rifts® Chaos Earth® – Psychic Scream™ Sourcebook
I recently authorized the cover sketch after speaking with the artist, newcomer Anthony Moravian.
UPDATE: Rifts® Antarctica
I authorized the concept for the cover of Rifts® Antarctica by John Zeleznik.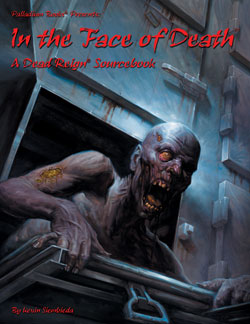 UPDATE: Dead Reign®: In the Face of Death™ Sourcebook
This book remains actively buzzing around inside my head wanting to get out. It is still planned for a fall release. There is a lot of creative energy flying around the office right now. Looking to use it to produce a lot of books.
New on DriveThruRPG.com – Land of the Damned™ One: Chaos Lands™ – a Palladium Fantasy RPG® sourcebook
New: Land of the Damned™ One: Chaos Lands™ Fantasy sourcebook, 20 monsters, 14 demons, 11 dying races, Random Monster Generator, the Great Rift, cold weather rules, key places, and more than 200 adventure hooks!
Recent PDF additions include The Northern Hinterlands™ (Fantasy) which includes new cold and snow spells, 15 magic artifacts, Wizard Stones, 18 monsters, the Shadow Coast, and more. Eastern Territory™ (Fantasy): key people, places and dangers, new races, creatures and the Disputed Lands between Wolfen and humans. Mount Nimro™ (Fantasy), Kingdom of Giants, Blade Priest, Life Force Wizard, Were-Shaman, Conjurer, Gigante Warlord, Gromek-Giant War, notable people, places and more; Baalgor Wastelands™ (Fantasy): Key people and places, 17 monstrous beings, survival in harsh environments, and more. The Western Empire™ (Fantasy), key people and places, Western society, city generation rules, The Slayer of Mountains, vampires, 20 new herbs/poisons, and adventure. Beyond the Supernatural™ RPG, 2nd Edition: A complete game, 14 character classes, 42 "ordinary people" occupations, 100+ psychic abilities, 16 monsters, the Lazlo Agency, world setting and rules. Nightbane® RPG, the core rules for this modern horror setting with elements of the monstrous, demonic and tormented superheroes (the Nightbane). Nightbane® Survival Guide: Everything to know about the Nightbane, their Morphus, Talents, magic, skills, contacts, new dangers, history, a complete adventure and more. Nightbane® Between the Shadows™ Sourcebook, the Dreamstream™, the Astral Plane, the sinister Spook Squad, world info, and more. Nightlands™ Nightbane® Sourcebook, secrets of the Nightlords™, the Nightlands, 41 wicked NPC villains, 12 monsters, 12 demons, and more. Nightbane®: Through the Glass Darkly™ presents Fleshsculptor magic, the Mirrormage, Cybermage, the Shadowleague, dangerous brotherhoods, magic artifacts, 50 spells, 3 full adventures, adventure ideas; The Rifter® #77, and FREE Sneak Previews for The Rifter® #80 AND The Rifter® #81, and more.